Love it or hate it, animal prints usually sneak their way onto fall runways, and in turn into the stores where we love to shop. I like animal prints in small doses. I can appreciate it when someone has the courage to mix an animal print with a check, stripe or floral print to create an inspired, creative look all her own. I'm just not likely to do it myself.
I recently picked up a pair of white J/Slide sneakers with a hint of leopard print on the back. If you're not familiar with this NYC-based brand, J/Slides makes an array of trendy sneakers in the $80-$170 price range that are really comfortable. Their slip-ons are must-haves. The style I scored, which came from Neiman's Last Call, is called The Wyler and was reduced to about $76 from $140. After debating whether the small leopard print embellishment was subtle enough for my low animal print-threshold, I decided to grab them. Why not?
I'm so glad I did because I love them. I'm wearing them now with raw-edge cropped jeans, shorts and dresses, and will continue wearing them into the fall. Now that I've allowed a small amount of animal print into my sneaker closet, I keep finding myself eyeing more of it. I think by October, there's a good chance I might be on the verge of becoming one of those animal print/floral print mixers I admire so much. Maybe.
Here are a few more animal print sneakers worth checking out:
All Saints Safia Leather Lace-Up Leopard Sneakers, $178. These are for the woman who's ready to commit to animal print. The all-over leopard print is contrasted by the black laces and white platform sole. Pair these with black jogger pants or cropped raw-edge jeans for an urban, fashion-forward look.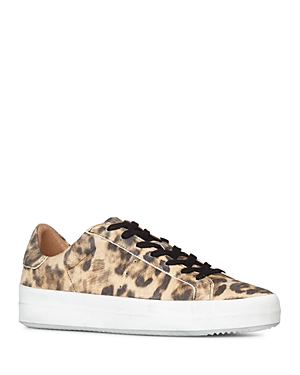 Tory Burch Brielle Sneaker, $268.  This is not what you expect from Tory Burch, and I love it. These slick kicks look perfect with jogger pants or casual sweats. The combo of leather and calf hair makes them a great choice for someone who wants a little bit of print, but nothing overpowering.

Toms Natural Bobcat Gold Foil Del Ray Sneakers, Originally $79, on sale for $62.99. From a brand known for their easy-to-slip-on, comfortable shoes come some out-there sneakers to add to your collection. The subtle gold foil embedded in the print makes these a fun choice for your next pair of Toms. At just over $60, there's no risk in trying these all-over print trainers.
Golden Goose Leopard Suede and Red SuperStar Sneaker, $515. From my favorite shoe designer Golden Goose comes these must-haves for fall. The red glittery star against the leopard print is the focal print and rockets these shoes to the top of my must-have list for the season. Add in the black patent leather detail on the back, and the shoes get pretty close to perfection in my book.
Roger Vivier Sneaky Viv Calf Hair Sneaker, $1,050.  These Italian-made sneakers (pieces of art?) are so elegant. The combination of the print and the hot pink leather, plus the gold hardware and zipper, makes these shoes the stuff of dreams. And with a price tag of over $1K, I'm just going to keep on dreaming….
Outfit details: J/Slides The Wyler, on sale at Neiman Marcus Last Call; Frame Denim Le High Straight Raw Edge Jeans from Neiman Marcus ; Pam & Gela Black Top